Sometimes your first steps to becoming an established writer is taking the path less traveled. It might be more work, but the learning experience will be worth it. Who knows? You might even get discovered along the way.
At least, that's how I'm thinking of this newest adventure.
On Friday night of last week, I received a message on Twitter from the founder of an indi book site called Channillo. She asked if I would be willing to write a series for the site, and after spending the weekend doing some research to make sure the website was legit, I went ahead and filled out an application.
Now, I've had a story idea floating around the back of my head for a while now. I'd never done more than take a couple of notes on it, but I decided to take this opportunity to solidify these new ideas. Yes, this means I'm now working on THREE projects, plus working two jobs and attempting to start freelancing. My Twitter name was changed to "Rebecca is trying to do too many things at once" for a reason.
And I also want people to read my work. I want to share my stories, hear that people liked them, that I created a world they loved to live in and characters they see themselves in. Yes, I write for me. But I also write because I have stories to tell and I want people to hear them.
So, it's been little over a full day that I made my announcement of becoming a Channillo author. I had a lot of Facebook likes from personal friends and family, almost no Twitter responses, and the story has exactly one subscriber.
Yeah, not a great first day.
But I'm trying to not let it get to me (trying – and failing).
This is the first time I've ever been able to put a story out in the world in any official capacity. Since it's an Indi book site, I have sole charge over marketing and editing of the story.
Since I'm publishing the story one section at a time, and since I'm publishing it for what I hope will be public eyes, the content I release has to be PERFECT. I cannot do what I usually so with stories: throw words at a page and make sense of it at some "later" date. This time, I NEED to outline, I NEED to plan ahead and STICK WITH IT, and I need to make sure all the elements of the story are there and accounted for in each and every section.
Yeah, it's hard as shit. But it's something I've never done before. It's a learning experience. And even if my subscription list never surpasses one person, I think my writing will benefit from it.
All that aside, I am really excited for this story. I like the world and the characters are already starting to take shape. It is exactly the kind of book I would want to pick up and read should I see it in a bookstore or library, and I would totally be open to moving it off the online platform some day and try to get a proper book deal off it. Maybe someone will feel the same.
But for now, it'll be on Channillo for anyone who wants to read it.
And now, my lovelies, Heir of Rot and Ruin: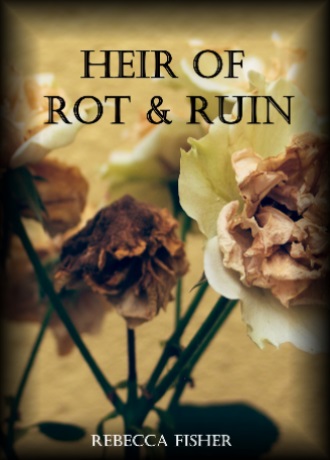 Faeries are wreaking havoc on the little coastal town of Belfast. It started as broken shop windows, stolen bread and other goods. Perhaps few unlucky dogs and cats would be found dead in an alley way or strung up from one of the street lights. It was, at worst, a nuisance. But something has changed. Since the Summer Solstice, inftants and young children are being stolen right out of their beds. Families are waking up each morning to an empty crib and a note scratched into sheets of tree bark:
"Return the Heir by Samhain, or your child will remain in Faerie forever."
Charlene Harris – or Charlie, as she prefers – is asking the same questions as everyone else in town. How could the fey do this? What had the townsfolk ever done to them? And she, like everyone else, is paralyzed with fear. But then her 1-year-old half-sister, Megan, is taken in the night by the vicious Fair Folk. Now she and a few other of Belfast High's misfits must put aside their differences, swallow their doubts, and work together to solve the mystery of the Heir and get Megan and the other children back before it's too late.
Sinister plots will be revealed and loyalties will be questioned on this journey to find this mysterious Heir. Charlie and her friends will face challenges they'd never before dreamed of, and will realize what it really means to be living in a faery tale.
You can read the first chapter on my Channillo page, found here. If you can, it would be awesome if you could subscribe. It costs $4.99 a month to gain access to all the site's content, including my own. There's some cool stuff on here – plenty to keep you busy while I work on each segment, which I plan on releasing at least once every month.
Obviously, I've been a little busy this week and was unsure of what to post. Next week I will have something more substantial. Right now, I plan on discussing the concept of self-promotion as a writer/creative person. Better ideas? I would love to hear them.
Thanks everyone, and again, if you could help me spread the word about this newest project, I would really, really appreciate it.
See you next week, everyone. I'm very tired.
R.F.
© 2019, Rebecca K. Fisher